Data Execution Prevention (DEP)
If you experience Client Track shutting down on you consistently, it may be due to your
DEP settings depending on what Windows-based operating system you are running on.
DEP (Data Execution Prevention) is a security feature that helps prevent damage to your
computer from viruses and other security threats. DEP monitors programs to make sure
they use system memory safely. If a program tries running code from memory in an
incorrect way, DEP closes the program. For more information on DEP, click here.
How to Change Your DEP Settings To Run Client Track
STEP 1
Right-click on the Computer icon on your desktop and then click on
go to 'Startup' menu > Control Panel > System & Security > .
OR
STEP 2
Click on
on left sidebar.
STEP 3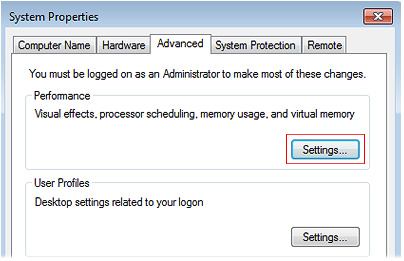 Click the
tab and then click the button under 'Performance'.
STEP 4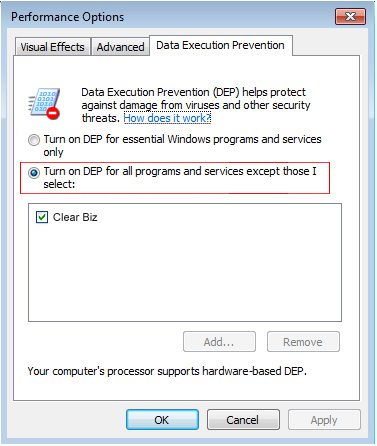 1) Click the
tab.
2) If you are running Windows 7 or 8, select
and go to Step 3 below.
3) Click the
button and browse for the Client Track application file (.exe).
4) Click the
button and then click .
NOTE:

If you are running Windows XP, Vista or Server 2008, you'll need to select
.