Client Communications
Communication Logger
Client Track has a new communication logger which allows you and your staff to log in phone calls
and client communications. You can assign tasks and duties to other staff members based on the
incoming communications so everyone knows what they need to do.
Our communication list view allows you to easily review all calls that were directed to you so you can
review all missed calls taken by other staff members on your behalf. In addition, you can also review
all communications for any client to gain a complete picture of all the conversations different people
have had with any client.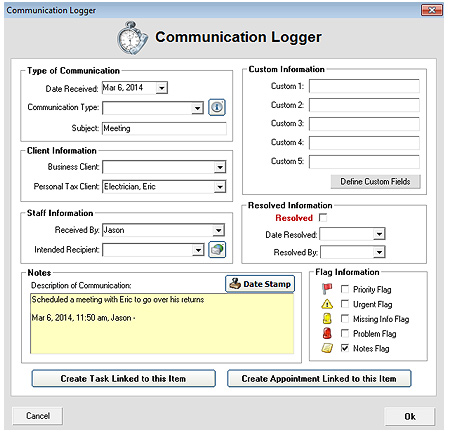 Communication Logger Features:
• Setup many notifications for a client and send emails, letters, faxes or call clients.
• Edit the template comments Client Track uses as needed.
• Uses your default email program.
Send Automatic Notifications
Client Track can deliver superior customer service and exceed your customer support performance
goals by automatically notifying each of your clients of their upcoming deadlines. You can setup
automatic notifications to your clients by email, fax, letter or phone.
You have full control of the automatic notifications sent to your clients by editing the templates used
to generate the notifications. It only takes a couple of seconds and will save you hours. You'll wonder
how you ever worked without it.