Time & Billing
Full Time Tracking and AR System
Client Track has a full time tracking and accounts receivable system so you can track your account
balances and productivity levels for your clients, staff and projects. Client Track is designed to handle
a range of invoicing options from small bookkeeping practices which bills flat rate or simplified
invoices with customized itemized services to more detailed 'Work in Progress' (WIP) billing.
We have worked hard to provide an easy-to-use system which gives the flexibility to track your time
and invoice your clients just the way you want.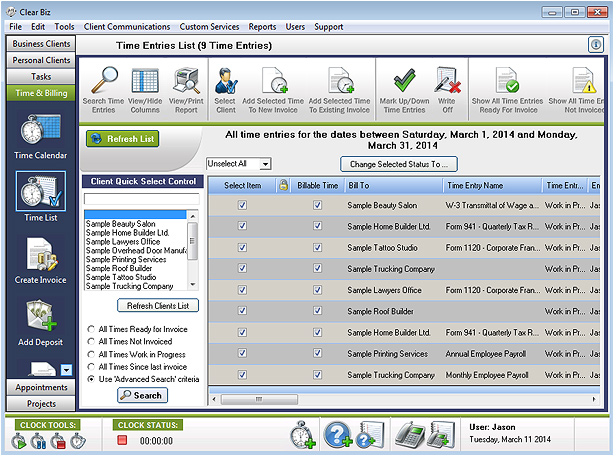 Setting Up Your Time & Billing
In Client Track, you have many options in customizing your time & billing setup such as billing rates,
billing categories, interrupt reasons, taxes and more for each of the different task types and staff
member in Client Track.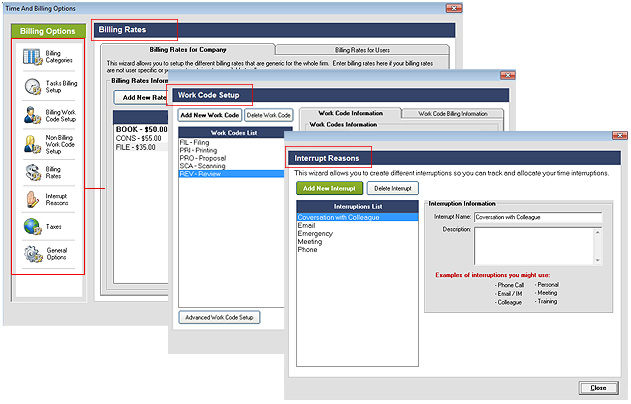 Setting up Descriptions & Colour Schemes
Set up descriptions of work performed and colour scheme for each task type. Client Track already
knows all the information to enter for each time entry and does all the work for you.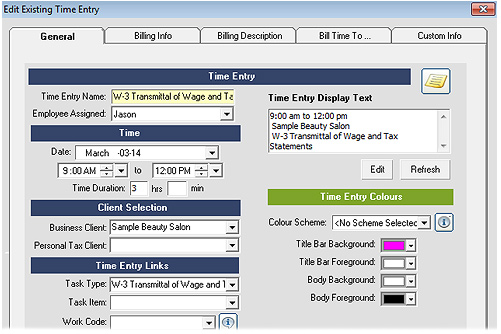 Using Built-In Timers
All the tasks and appointments in Client Track have a start and stop timer associated with them and
Client Track makes it very easy and quick to record accurate timing control with just one mouse click.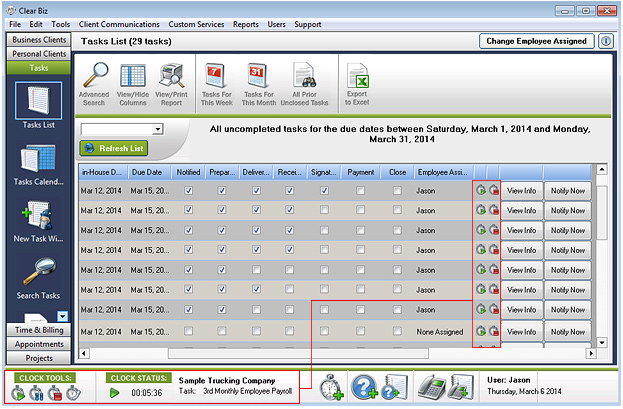 When Using Timers On Tasks, Client Track Knows The Folloing:
• Who you are
• Which client you are working on
• What type of task you are working on
• What billing rate to use based on who's logged in, who the client is and which type of task you
are working on.
• Client Track will apply the proper colour scheme to the client automatically and will even fill in the
description of work performed automatically for you.
Managing Your Schedule
Can use our start/stop timers to record the exact time you are working on tasks or you can fill in
your time entries at the end of the day. Each time entry is fully adjustable and gives you the flexibility
to quickly fill in your working days.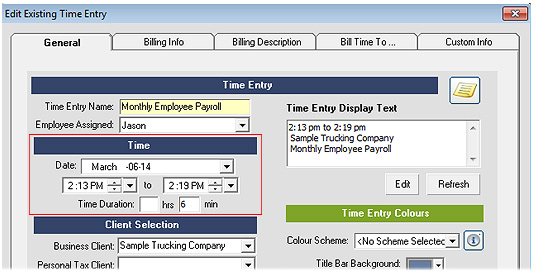 View & Controlling Your Time Entries
The 'Time Calendar' allows you to quickly see all your time entries in an appointment style calendar
format from day, week or month view regardless of whether you've created the time entries manually
or by using the build-in timers.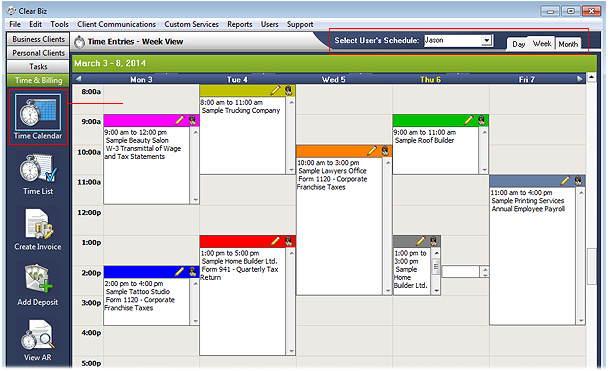 Drag 'n Drop Time Entries
The drag 'n drop interface makes it easy to control the time entries and move them around for each
staff member in your office. Once you have the entries entered the way you like, you can 'lock' the
time entries so that they can't be changed, except by an administrator.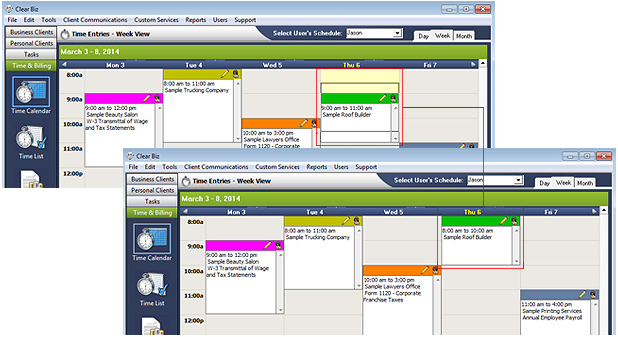 Easily Search Your Time Entries
The 'Advanced Search' tool allows you to perform queries on your entries so you can see exactly
what you want to see. For example, you can list all time entries allocated to a client since the last
invoice or can list all entries made by a staff member in a specified month.
Manually Adjusting All Your Numbers
The 'Time List' also gives you the ability to edit any information for each time entry. You can change
the time of entries, billing status, billable rates, and final dollar amounts for any of the entries. You
can also adjust the final 'total time' and the final 'dollar amount' that will be viewed on the client's
invoice for total flexibility to dictate what the client sees on their invoice.
In addition, the 'Time List' also shows you the totals of each of the columns so you can view the
total time and dollar amounts for each of the columns.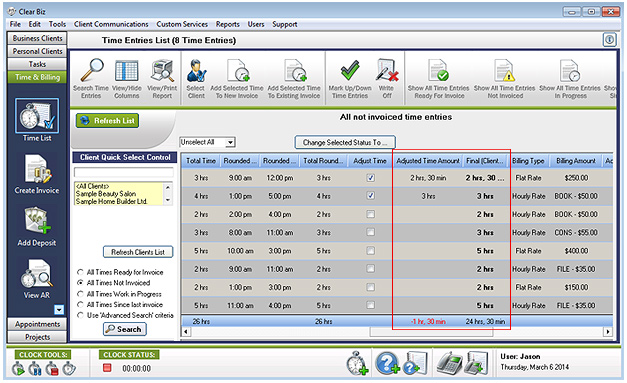 Creating Invoices
Client Track allows you to create invoices for selected time entries for your clients such as WIP,
flat rate or custom items. Also, Client Track includes multiple invoice templates which can easily
be customized to fit your needs.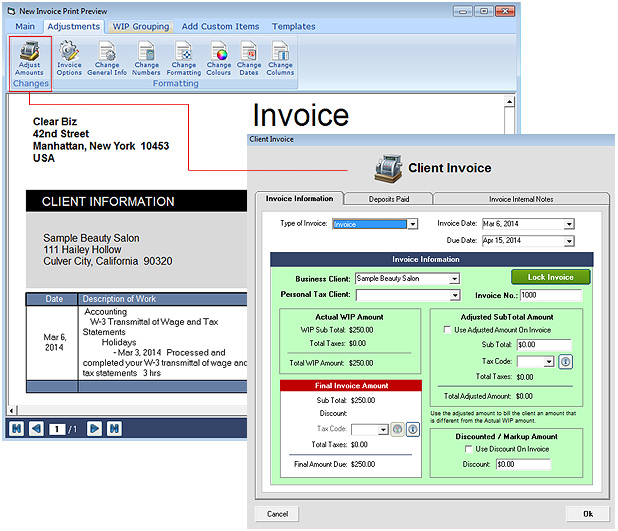 Customize Invoice Settings
You can easily customize an invoice such as indicating which columns you want to see on the
invoice and change the column widths to give you complete control of what information the clients
sees on the invoice. You also have full control of the taxes applied and the invoice dates.